Slingerzz: Original Coil Lasso that mimics a monkey's tail to grab objects at a distance. from Marlin on Vimeo.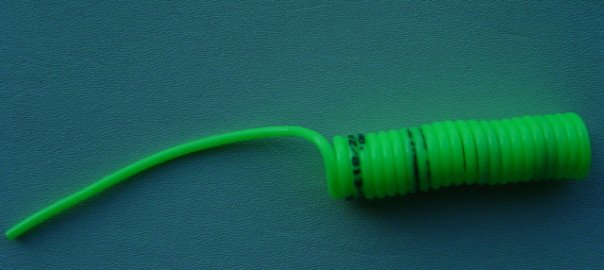 Slingerzz: The Original Coil Lasso
is a toy and tool that is the first advancement to the original lasso invented by the Spanish cowboy in 1780. So unique was the lasso device that the verb and the noun are one in the same. It didn't take long for the lasso to spread to the new world and cowboys learned not only to snare or capture an object but all kinds of fancy tricks and roping moves that have been immortalized in movies. Slingerzz is a coil lasso and just like a rope lasso it can capture and snare all kinds of things like chair, brooms, bicycles, door knobs, you name it and you can probably get a Slingerzz around it.
So versatile I coined the phrase, "The World is Your Target" because it is endless and just like that cowboy lasso there are all kinds of body traps and tricks that can be done with the device that it rivals both the yo-yo and a kendama and exceeds both of them as it can actually capture and retrieve and object to the player.
The act of play is a supreme activity for a human because it connects us with our creativity, our joy and that is the path to our divine selves. And it is old wisdom as was stated in Matthew 18:3 a verse more than 1000 years old. "Truly I tell you, unless you change and become like little children, you will never enter the kingdom of heaven." Children are innocent, in their joy, do not judge harshly, and most of all are connected to their play. When an adult is truly in their play and not in competition they are their happiest.
Enjoy my toy.
You can find Slingerzz on our Facebook page:
Movies:
Around Pahoa Town Big Island of Hawaii
Slingerzz plays Las Vegas

How to Play with a Slingerzz Tutorial